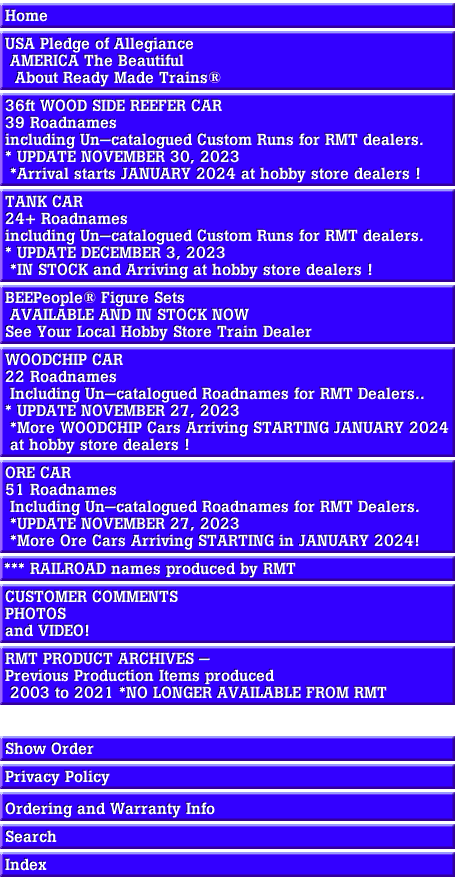 Mailing Address:

RMT/Ready Made Trains Ū
PO Box 173
Bloomsbury, NJ 08804

RMT Customer Service Hours are ONLINE through email Only 24/7/365.

rmt-direct@readymadetoys.com

SHIPPING AND ORDERING INFORMATION

All Ready Made Trains/RMT orders to a USA street address are based upon actual UPS Shipping Charges. However, the UPS rate shown on Order Form may not be actual rate you are charged since RMT has a Preferred Customer Rate from UPS that cannot be shown on your Order Form. These rates are usually lower than the UPS rate shown on Order Form and will be manually applied by RMTŪ when your order is processed. This includes any handling charge on any order. RMTŪ reserves the right to send, at our option, any USA orders by USPS Ground/US PRIORITY MAIL/United States Postal Service or Fedex Ground. CANADA orders also have optional UPS or US PRIORITY MAIL shipping at existing charges. Foreign country orders, as listed on order form, will only have US PRIORITY MAIL shipping at existing charges.

READY MADE TRAINS/RMTŪ Terms of Sale

RMTŪ - All orders placed through Ready Made Trains/RMTŪ online, by mail, fax or phone are subject to these belowpolicies.

ALL SALES ARE FINAL: Returns only for repair or replacement as per RMT Warranty.

CREDIT/DEBIT CARD ORDERS: To place an order for an item, a valid form of payment is required. You can use your valid American Express, Discover, Visa, or MasterCard with a valid expiration date. Postal money order is also accepted as a valid form of payment. Your entire order amount will be charged at time of initial processing by RMTŪ.

VALID CREDIT/DEBIT CARDS: RMTŪ will make every reasonable effort to contact you if your credit/debit card has expired or is not valid. Please contact RMTŪ by email for any questions concerning your order.

DECLINED OR EXPIRED CREDIT/DEBIT CARDS: Orders are shipped in the sequence that they are received. If your credit card is invalid or declined, RMTŪ will make every reasonable attempt to contact you. However, if you do not promptly respond to any communication attempts, your order will be cancelled. When you do respond with a new valid form of payment, your order will be fulfilled or reinstated as soon as possible. This may mean waiting for the next shipment of an item if sold out in the interim.

CANCELLATION OF CREDIT/DEBIT CARD ORDERS: Orders are charged immediately upon completing order form as this is a requirement. Once processing has begun on your order and it has been charged, the sale is considered final and you may no longer cancel.

PRE-PAID ORDER - MONEY ORDER PAYMENT: Some customers prefer to pay for their orders by postal money order. Money orders must be payable in US$ dollars. Personal checks are not accepted at this time. There is a $35 fee charge for any money order payment that does not clear.

EXPECTED DELIVERY DATES: Most items are usually in stock when listed on RMTŪ website, however items may be subject to unexpected arrival delays in transit from the factory.

SHIPPING: RMTŪ reserves right to ship partial orders...however the initial shipping charge is all you pay no matter how many partial shipments are needed. For USA customers, RMTŪ may use United Parcel Service/UPS to ship your order and a complete street delivery address is required including ZIPCODE and daytime phone number, however RMTŪ reserves the right to send, at our option, any USA orders by USPS/US MAIL/United States Postal Service. APO-FPO Military address orders are also accepted but may require additional information to complete ordering process...contact RMTŪ by email. CANADA orders may utilize UPS or US MAIL shipping options. Foreign orders other than to CANADA require additional handling and shipping charges. Each order is subject to a 3% handling charge, based on item(s) price, that is not refundable after order is processed and/or shipped.

CHANGE OF ADDRESS: Please notify RMTŪ of any change in your billing address, delivery address or phone number. If RMTŪ does not have your current information on file prior to shipment, your order may be delayed. You are responsible for any charges incurred due to an incorrect or changed address.

EMAIL PRODUCT UPDATES AND OTHER INFO: On occasion, RMTŪ may send emails about new products or special sales/offers. Unless specifically requested to DELETE your email address, RMTŪ will use the email address listed on orders placed through RMTŪ website for this activity. Under no circumstances will RMTŪ share any of your information with other companies, individuals or organizations.

WARRANTY SERVICE: Return for Repair or Replacement. Please contact Customer Service before you return any item for repair or replacement. Regardless of the nature of the situation, an e-mail will simplify the procedure and insure that your item is handled in a timely manner and returned to you promptly.

Handling/Return Shipping charge is required on all WARRANTY or Repair Service.

WARRANTY SERVICE...USA CUSTOMERS ONLY: - for powered locomotive or railcar include US $18.00 and for freight or passenger car include US $10.00 for each item. Please include payment by postal money order or personal check. If any repairs are needed that are not covered by Warranty, RMTŪ Repair Dept. will contact you with estimated cost before completing any repair.

WARRANTY SERVICE...OUTSIDE USA...contact RMTŪ Repair Dept. c/o RMT@readymadetoys.com for proper Handling/Return Shipping charge for your respective country.

ALL RETURNS VIA INSURED US MAIL

NOTE: Address label must include the name...Repair Dept. ...to properly route your repair.